Royal Star Tourdeluxe
Ĝan Ŭesli Starling's motorcycle touring photo journal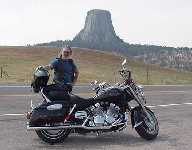 Me at Devil's Tower on 2000-08-23
Royal Star Tourdeluxe — my 7th motorcycle: a 1997, four-cylinder DOHC, 1297cc, water-cooled, 5-speed cruiser by Yamaha.
Crash

— Rider all but unhurt.

Long-Distance Rides

— (see maps)
Long-ago ride with the my first wife— an 1100-mile round-trip to Alabama including the Natchez Trace and Blue Ridge Parkways.
1999 thru 2004 — short trips around Michigan.
Peak horsepower charts
My graphs from the Dyno. Note that an out-of-the-box Royal Star is rather sadly detuned (considering it is basically a V-Max engine)! So I gave mine a modest upgrade: Barons BAK carburetor kit (re-jeted and with K&N filters); Bub 4-into-2 exhaust. I didn't go for the racing-grade ignition with a higher rev-limit. So I'm still bogged down to 6K rpm (112 mph). But I figure that's good enough for me. Anyway, here's what I got for my money.